Welcome to Fly By Night!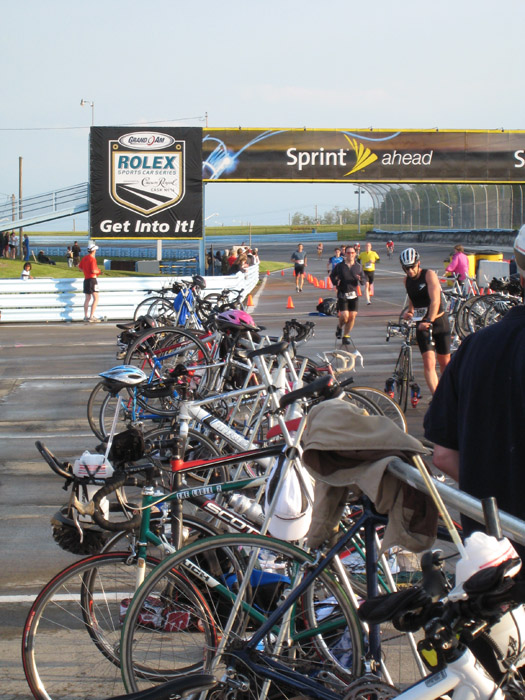 The Formula 1 Duathlon is staged on one of the most historic and well-known race tracks in the country. Watkins Glen International hosts the only NASCAR event in New York State and has its roots in Fromula 1 racing. Our Formula 1 race at The Glen is a run-bike-run-bike-run duathlon taking place on Porsche Clash weekend. We take the track following the event with Pit Row serving as transition. Added to the event in 2017 was the Classic Du - run-bike-run duathlon on the same legendary course.
A One of a Kind Event!
The race starts at 6:00pm. There will be ample warm-up time on the track while our Pit Crew jumps over the wall to set up transition.
"Let me start out with one single statement. This was a freakin' awesome event... pulling out of the staging area and turning down the front straight of one of the world's most famous racetracks - while perched on a bicycle - gave me goosebumps. The track was FAST. And NICE. Big, HUGE, wide sweeping banked corners. Nice descents and a few nice climbs."
Arrive early to watch the Porsche Clash Races!!!
Schedule
8:30am - Porsche Clash
3:00pm - Registration opens
4:30pm - Registration closes
4:30pm - Porsche Clash Ends
5:00pm - Track Warm up
6:00pm - Formula 1 and Classic Duathlon
8:00pm - Barbeque
9:00pm - Awards
Amenities
Entrance to the Track
Technical Shirt
Post Race Barbeque
Top 3 Overall Awards
Top 3 Age Group Awards
Relay Team Awards